A 4L pure water bottle drinking distiller is a device that is used to purify water by distillation. Distillation is a process that involves boiling water to produce steam, which is then collected and cooled to produce pure, clean water.
The 4L pure water bottle drinking distiller typically consists of a heating element, a boiling chamber, and a cooling system. To use the distiller, you fill the boiling chamber with water and turn on the heating element. The water is then heated until it boils and turns into steam. The steam is then collected and cooled, producing pure, clean water.
The pure water bottle drinking distiller can be used to purify water from a variety of sources, including tap water, well water, and even seawater. It is an effective way to remove impurities, contaminants, and bacteria from water, making it safe to drink. The 4L size of the distiller refers to the capacity of the boiling chamber, which can hold up to 4 liters of water at a time.
VEVOR 4L Pure Water Bottle Drinking Distiller Filter 304 Stainless Steel Purifier Softener Treatment Devices for Lab Home Office
Product Description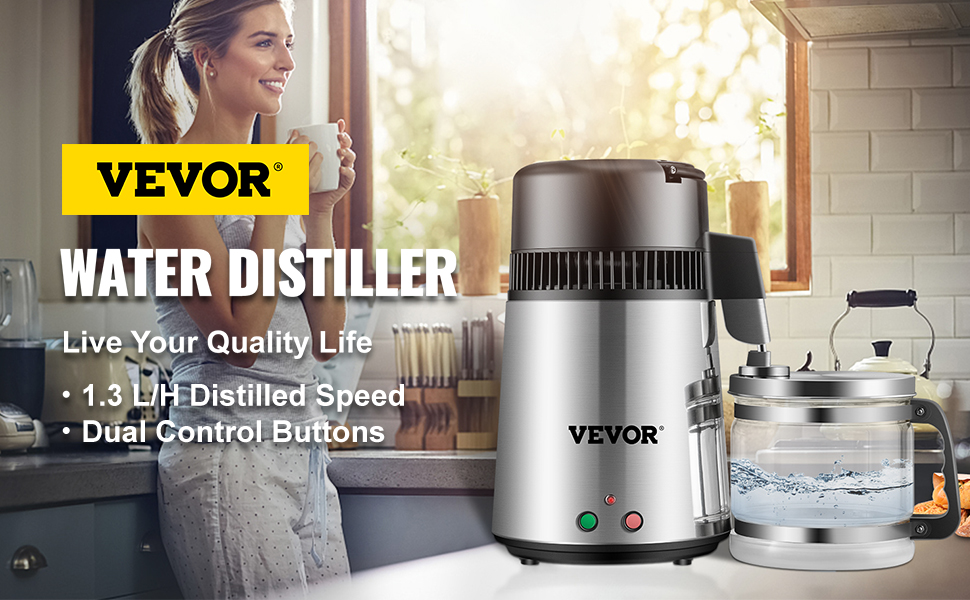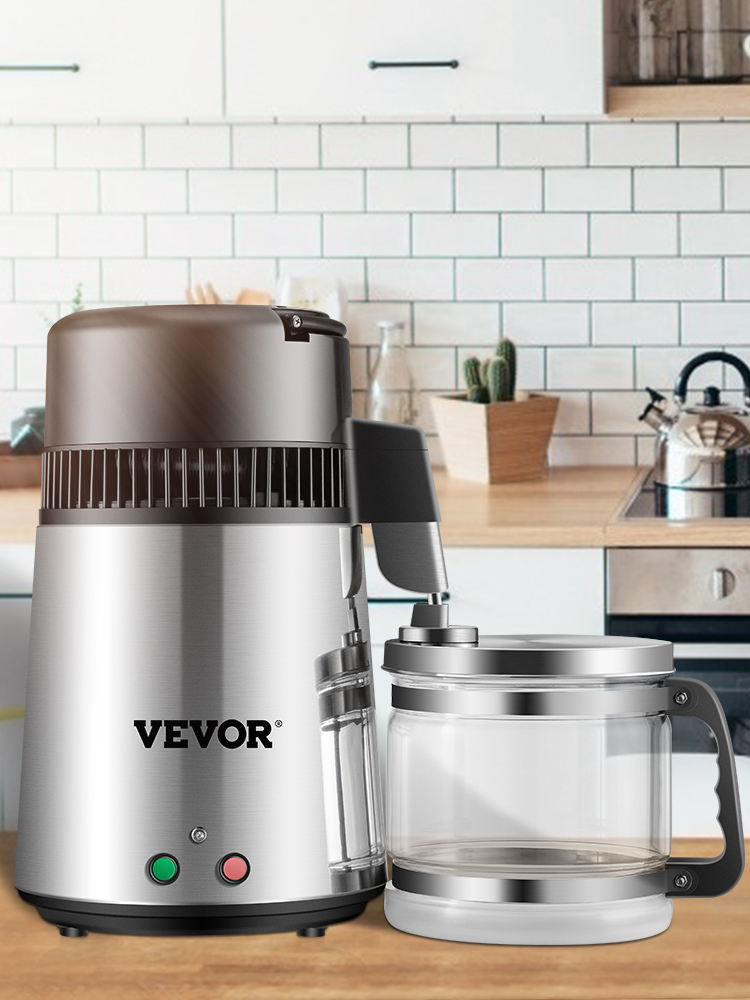 Home Water Distiller
VEVOR's water distiller is a perfect tool for purifying your water and helping you get a constant supply of distilled water, whether you're at home or in the office. This distiller can effectively dissolve VOCs and filter other impurities, and the distilling speed reaches up to 1 L of water per hour. What's more, as a perfect match for a tiny kitchen, it is not much bigger than a kettle in size and won't take up so much of your space.
Efficient Water Distilling
Trust-Worthy Quality
Intelligent Temperature Control
Reliable Heat Dissipation
Ease of Maintenance
Tough Equipment & Tools, Pay Less
VEVOR is a leading brand that specializes in equipment and tools. Along with thousands of motivated employees, VEVOR is dedicated to providing our customers with tough equipment & tools at incredibly low prices. Today, VEVOR's products are sold in more than 200 countries and regions with 10 million plus members worldwide.
Why Choose VEVOR?
Premium Tough Quality
Incredibly Low Prices
Fast & Secure Delivery
30-Day Free Returns
24/7 Attentive Service
Key Features
1 L/H Distill Speed

Fueled by the 750-watt aluminum heating plate, the distillation speed of our water distiller is over 0.26 gal/1 L per hour, with which you don't need to buy bottled water anymore.

Convenient Operation

Two buttons realize stop and start function without having to plug or unplug. The intelligent control system allows for auto turn-off when the temperature is over 320℉/160℃.

4 L Water Container

The glass container features a large volume of 1.1 gal/4 L and an ergonomic handle. The silicone bottom can act as a buffer to keep the glass from breaking.
Aluminum Dissipation Fan

The 4-blade fan on the top cover adopts aluminum as its material instead of fragile plastic. Thus, excellent heat dissipation and long service time can be ensured.

SUS 304 Inner Barrel

The barrel is designed with a large opening, around 7.7″ (195 mm) in diameter, bringing many conveniences for cleaning. The entire boiling chamber, including the dome, adopts 100% food-grade 304 stainless steel.

Carbon Filters & Fruit Cleaner

Three packs of carbon bring additional filtration of distilled water. A bottle of fruit cleaning powder is also available to dissolve the limescale attached to the inner tank.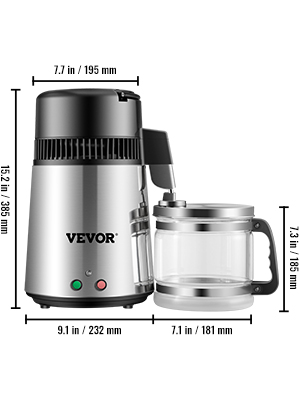 Specifications
Rated Power: 750 W
Distilling Speed: 0.26 Gal/H (1 L/H)
Container Volume: 1.1 Gal (4 L)
Barrel Diameter: 7.7 inches (195 mm)
Barrel Material: 304 Stainless Steel
Container Material: Borosilicate Glass
Container Size: Φ7.1×7.3 in (Φ181×185 mm)
Product Dimensions: Φ9.1×15.2 in (Φ232 x385 mm)
Product Weight: 12 lbs (5.5 kg)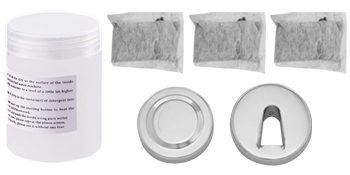 Package Content
1 x Water Distiller
1 x Glass Water Container
3 x Carbon Packages
1 x Bottle of Fruit Cleaning Powder
1 x User Manual
Features & Details
【EFFICIENT WATER DISTILLING】- The 750-watt aluminum heating plate allows our home water distiller water up to 0.26 gal/1 L per hour and about 6 gal/23 L per day. It can effectively dissolve VOCs and filter other impurities from your water, offering you distilled water for drinking at ease.
【TRUST-WORTHY QUALITY】- With CE certification, all parts that come into contact with water are made of food-grade 304 stainless steel, including the internal tank, inner cap, water outlet, and inlet. Furthermore, thanks to the shockproof and durable features, the 1.1 gal/4 L glass water container is not easy to crack or break.
【INTELLIGENT TEMPERATURE CONTROL】- Coming with two upgraded buttons, our counter-top water distiller is safe and convenient to operate. The green button means "ON", and the red button represents "OFF". Besides, it is thermostatically controlled with automatic shutoff for overheating protection when the temperature exceeds 320℉/160℃. (NOTE: The machine will automatically power off after one round of water distilling is completed.)
【RELIABLE HEAT DISSIPATION】- Unlike those with plastic fans, our water distiller machine adopts a built-in 4-blade aluminum fan, which is durable enough to ensure heat dissipation and long service life.
【EASE OF MAINTENANCE】- To provide you with a better taste and experience, we kindly offer three replaceable carbon packages for purifying. Moreover, a bottle of fruit cleaning powder is also included for effortless cleaning of the internal tank. NOTE: It is recommended to replace the carbon filter pack once a week and clean the water distiller after used twice.
| | | | | | | |
| --- | --- | --- | --- | --- | --- | --- |
| | White | Temperature Controlled | emperature Controlled | Red | Gold | Countertop Water Distiller |
| Capacity | 4L/1.06Gal (US) | 4L/1.06Gal (US) | 4L/1.06Gal (US) | 4L/1.06Gal (US) | 4L/1.06Gal (US) | 4L/1.06Gal (US) |
| Output Power | 750W | 750W | 750W | 750W | 750W | 750W |
| Material | All Stainless Steel Internal | 304 Stainless Steel | 304 Stainless Steel | 304 Stainless Steel | 304 Stainless Steel | 304 Stainless Steel |
| Feature 1 | CE approved | CE approved | CE approved | CE approved | CE approved | CE approved |
| Feature 2 | Cooling Effect | Automatically Shut Off | Automatically Shut Off | Automatically Shut Off | Automatically Shut Off | Automatically Shut Off |
| Feature 3 | Aluminum Wind Leaf | Temperature Controlled | Temperature Controlled | Aluminum Wind Leaf | Aluminum Wind Leaf | Temperature Controlled |